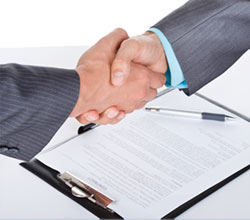 These top six sales support items manufacturers representatives should expect from the manufacturers, distributors or sales managers whose products or services are on their line cards. Missing any one of these critical elements can seriously impact either sales or the rep's sales relationship with the company …or both.
» Training – Principals must train the independent sales rep on products and/or services. Principals may pay or split expenses with the manufacturers rep for training tools, courses (if they are necessary), and travel (if the independent rep is expected to visit the principal's office or manufacturing facilities).
"The BIGGEST factor in an independent sales rep's failure is their lack of product knowledge. If a sales rep is not comfortable selling a product, they WON'T."
» Initial Travel Period – For the first few months, it is suggested that the principal make a person available to travel with the sales rep to make initial sales presentations. This gives the rep time to understand and get a feel for the sort of questions that customers ask, problems, what sorts of things to look for, what the sales cycle looks like, and so on.
» Sales and Order Tracking – Sales reps do not work under the same roof as the principal, and they are paid commission only. Because revenue is not guaranteed, it is vital for the independent rep's business to receive information such as:
Copy of quotations and price lists
Pending orders
Order status
Shipping notifications
Copies of invoices
Commission schedules
Copies of literature sent with Products
IMPORTANT: The most common way to lose a rep is poor communication.
» Timely Follow Up – When independent manufacturers representatives bring in quotation requests, the principal needs to turn them around as soon as possible! Likewise, if there are problems in the field, principals should offer support to the sales rep, as well as their customers.
» Customer List –The principal must supply the sales rep with an installation or a user list of their lines or services within the independent rep's territory. This is a great way to help the rep build a customer base, as well as to understand the principal's products. This can greatly assist the principal, as it can open up previously unseen sales opportunities.
» Supply Marketing Material – Principals need to supply independent reps with the promotional material needed to sell that particular product or service. Common marketing materials include brochures, samples, catalogs, but may require training videos or manuals for more complex sales.